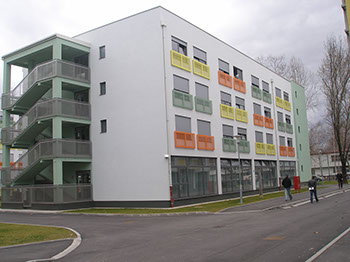 SEEOC - en SEEOC Accomodation SEEOC News
Student Dorm Stjepan Radic, Jarunska ulica 2, 10000 Zagreb
Map
Hall
Bathroom in the hall of apartment type
Small kitchenette
Room
Room
Room
Room
SC Stjepan Radic
Washing in the hall
Toilets and showers in the hall
Washing in the hall
Restaurant
Hall
Room
Accommodation google form for reservations
Central accommodation and Event center of "SEEOC/SEEMOC 2020 and 5 days Zagreb open Event" will be in student dorm Stjepan Radic near river Sava and lake Jarun in Zagreb. Accommodation will be in double bed room with possibility for half board. Lunch will be served in competition arena upon request.
This accommodation will be available for reservations and payments made until June 15th 2020. Limited number of places will be available (about 200), so plan your accommodation on time and make payments on time. It will be available on "First come, first served" basis. Summer time in Zagreb is quite busy time in hotels and hostels. Keep that in mind while planning your trip.
Student dormitory "Stjepan Radić – Zagreb". Accommodation can be booked only as a two beds in the room or consent that organizer can put one other person in the room if you are booking alone. Accommodation will be available on first entry- first served bases. Other accommodation is available through direct contact with hotels.
For teams larger than 10 persons please contact us via e-mail (vihor.entry@gmail.com) for all your requests.
Sleeping with half board (breakfast and dinner) – 29€ /day
Sleeping with breakfast – 23€ /day
Sleeping without food – 19€ /day
24.08.-30.08. – Accommodation HB – 174€
24.08.-30.08. – Accommodation with breakfast – 138€
24.08.-30.08. – Only Accommodation – 114€
25.08.-30.08. – Accommodation HB – 145€
25.08.-30.08. – Accommodation with breakfast – 115€
25.08.-30.08. – Only Accommodation – 95€
26.08.-30.08. – Accommodation HB – 116€
26.08.-30.08. – Accommodation with breakfast – 92€
26.08.-30.08. – Only Accommodation – 76€
Accommodation can be booked until Sunday August 30th. For special request on extra days of departure (Departure on August 31st or arrival before August 24th please contact us via e-mail – vihor.entry@gmail.com)
All accommodation, meals and transport reservations will be noted but in order to make it valid please make payment of all your expenses to our account. Reservations without payment will not be carried out. All payments should be made in Croatian currency (HRK – Kuna) equivalent to Euro on the day of payment. You can pay accommodation all together with catering and transport to save some bank surcharge (please add to complete order 7€ for amount less than 500€, and 10€ for amount over 500€!)
Accommodation google form for reservations
SEEOC & Zagreb OPEN 2020
Orijentacijski klub "Vihor"
Ribnjak 2, HR-10000 Zagreb
CROATIA
vihor.entry@gmail.com
vihor@vihor.hr
+385 1 6431000
+385 98742094
Raiffeisenbank Austria d.d.
Magazinska cesta 69
IBAN HR6524840081101296342
SWIFT: RZBHHR2X
Thank you
http://vihor.hr/wp-content/uploads/2019/04/dom-stjepan-radic.jpg
262
350
Damir
http://vihor.hr/wp-content/uploads/2019/06/logo_ok_vihor.png
Damir
2019-09-30 18:33:21
2020-01-17 19:51:19
Accommodation Student dorm Stjepan Radić